Tea in the Cotswolds
We firmly believe that afternoon tea is one of the joys of life, and one that is made to be shared. We are delighted to bring you the freshest, homemade scones, sandwiches and cakes – all served with a piping hot pot of your favourite blend. Make it a celebration and add a glass of fizz!
We are always happy to cater for guests who are gluten intolerant but we do ask that you let us know of any dietary requirements at the time of booking. Some of our dishes may contain nuts.
Food Allergies & Intolerances – Should you have concerns about a food allergy or intolerance please speak to our staff before you order your food or drink
---
Our Teas & Coffee's
Traditional English Breakfast, Earl Grey, Lemon and Ginger, Pure Green Tea, Peppermint and a selection of Fruit Teas

Loose Leaf Teas
Assam, Darjeeling
We offer Coffee made from the finest Piacetto Rainforest Alliance Certified Fair Trade Coffee.

Homemade Afternoon Tea is served between 2:00pm and 5:00pm daily with unlimited tea or coffee of your choice.
---
Deluxe Afternoon Tea
Dainty Finger Sandwiches served on white or brown bread and are made to order
Please choose two sandwiches per person from the following:
Carved Ham and Tomato Chutney
Red Leicester and Spring Onion
Roast Beef and Celeriac Rémoulade
Chargrilled Mediterranean Vegetables with Chipotle Mayonnaise
Chicken Caesar Salad
Homemade Fruit Scones
Served with Strawberry Preserve, Clotted Cream and Butter
Selection of Chef's Homemade Cakes and Treats

Coconut and Mango Cake,
Rhubarb and Custard Tart,
Lemon and Rosewater Posset,
Blood Orange and Ginger Biscuit Cheesecake
From £22.50 per person
Add a glass of Lanson Père et Fils, Brut Champagne for £10 per person.
---
Champagne Afternoon Tea
Dainty Finger Sandwiches served on white or brown bread made to order
Please choose two sandwiches per person from the following:
Carved Ham and Tomato Chutney
Red Leicester and Spring Onion
Roast Beef and Celeriac Rémoulade
Chargrilled Mediterranean Vegetables with Chipotle Mayonnaise
Chicken Caesar Salad
Additional sandwich
Smoked Salmon, Dill Crème Fraîche
Homemade Fruit Scones
Served with Strawberry Preserve, Clotted Cream and Butter
Selection of Chef's Homemade Cakes and Treats
Coconut and Mango Cake,
Rhubarb and Custard Tart,
Lemon and Rosewater Posset,
Blood Orange and Ginger Biscuit Cheesecake
Fresh Strawberries and Chocolate Sauce
A Glass of our Lanson Père et Fils, Brut Champagne (125ml)
From £30.50 per person
---
Classic Cream Tea
Fresh, homemade Fruit Scones served with butter, strawberry preserve and clotted cream alongside a Cake of the Day
From £11.00 per person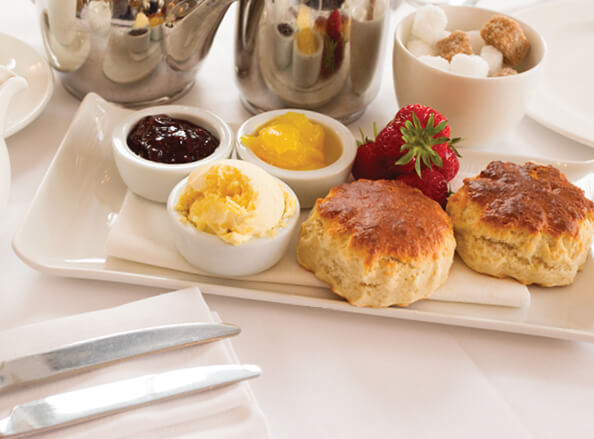 ---
---